School Science Workshops
Since 2007, more than 100,000 school children have participated in URENCO's science education outreach programmes.
The international Richie programme is a core element of URENCO's school and education outreach, a key part of our Sustainability approach.
Richie is an animated character and has been the ambassador of the programme since its inception in 2007. Through a series of instructor-led workshops at schools local to URENCO sites in England, Germany, the Netherlands and the US, Richie connects with young audiences, teaching them about energy topics in an engaging and educational way.
The purpose of the workshops is to inspire primary school children to develop an interest in a STEM (Science, Technology, Engineering, and Technology) subject in order to become our future energy leaders.
A Richie science workshop runs for 90 minutes and is hosted by trained employees who have graduated from the Richie programme.
In 2014, URENCO developed a partnership with the British Science Association (BSA) who have incorperated the Richie school science workshops into their current CREST awards. CREST is a UK award scheme recognising success, building skills and demonstrating personal achievement in STEM (science, technology, engineering and maths) project work.
The links to URENCO's CREST awards are below:
www.crestawards.org/spinning-solutions-atebion-troelli/
www.britishscienceassociation.org/enrichmyclassroom
Find out more...
To watch a 'Richie Science Workshop' in action see the video clip below.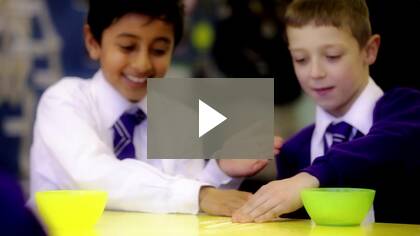 To book a free workshop or find out more about URENCO's Richie education programme or CREST visit learnwithrichie.com.
Richie Enrichment has his own DVD which provides even more of an insight into science and the process of uranium enrichment. For teachers or those involved in education, a free copy of the 'Richie Energy' DVD is available on request by emailing Richie at richie@URENCO.com.